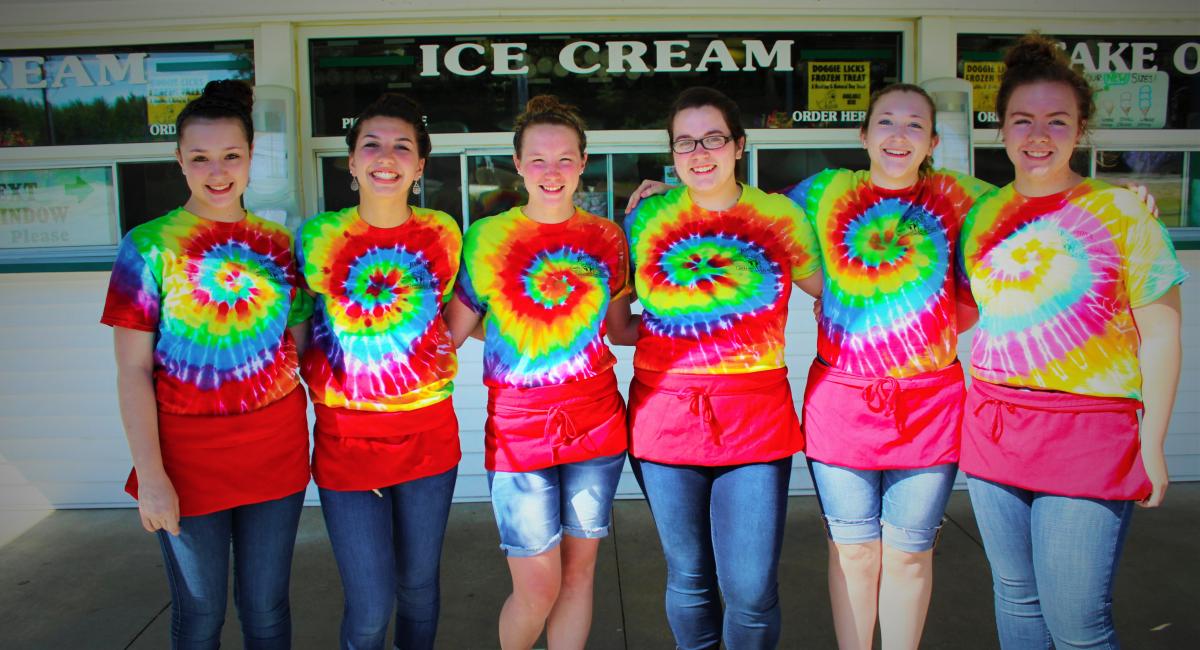 Ice Cream
We use Gifford's famous Ice Cream. For more information about Gifford's Ice Cream visit http://www.giffordsicecream.com/
Ice Cream Flavors
Black Raspberry - 

Ripe black raspberry puree gives flavor to this creamy salute to summertime

Butter Pecan (N) - 

Creamy, just-churned butter flavored ice cream with fresh roasted pecans

Caramel Caribou (N) - 

Luscious toffee ice cream rippled with thick golden caramel and sprinkled throughout with chocolate caramel cups

Campfire S'mores (N) - Chips of chocolate – crunch – and then, melt in your mouth when you bite into this graham ice cream oozing with marshmallow ripple… S'more indeed.
Cherry Blossom - 

Sweetly sublime cherry ice cream bursting with plump, dark bordeaux cherries

Chocolate - 

Rich? Yup… Creamy? Yup… Chocolatey? Wicked!! VOTED ICE CREAM GRAND CHAMPION

Chocolate Chip (N) - 

Loads of dark chocolate morsels in classic vanilla ice cream

Chocolate Lovers Chocolate (G, N) -

 Deep, rich chocolate ice cream packed with chocolate truffles and chocolate cake crunch, and then finished off with fudge ripple

Coffee (G, N) -

Like your first cup by a Maine wilderness camp fire…smooth, rich, luxurious. Life is sweet.

Cookie Dough (N) - 

Big chunks of chocolate chip cookie dough and plenty of chocolate chips change up this simple vanilla ice cream

Cookie Dough Coffee Break (G) - 

Cookie dough chunks dunked in rich, sweet coffee ice cream

Cookies & Cream (G) - 

Vanilla ice cream blended with broken cream-filled chocolate cookies

Deer Tracks (N) - 

As delightful as sunrise at a cabin on the lake: full-bodied espresso ice cream laced with crunchy, chocolate-coated, toffee pieces and swirled with thick, rich chocolate fudge.

Fly Fishing Fudge (G, N) - 

M&M's®, cookie dough, and chocolate chunks jump in and out of a fudge river flowing through vanilla ice cream.

Grapenut (G,N) -

Creamy…crunchy…quirky. Vanilla ice cream and real Grape-Nuts make this a New England favorite.

I Scream for Cake (Birthday Cake) (G,N)-

A bite of cake… with rainbow sprinkles… and blue buttercream frosting… AND cake batter ice cream… It's a party in every spoonful!

Maine Black Bear - (N) - 

A satisfying combo of sweet black raspberry swirled through vanilla ice cream with chocolate raspberry mini-melts

Maple Walnut (N) - 

English walnuts in ice cream flavored by pure Maine maple syrup

Mint Chocolate Chip (N) - 

Refreshing green peppermint ice cream sprinkled with dark chocolate morsels

Mississippi Mud Pie (N) - 

Coffee ice cream stuffed with crushed cream-filled chocolate cookies and a whirl of chocolate-coated cookie crumbles

Moose Tracks (N) - 

Peanut butter cups mixed throughout vanilla ice cream swirled with famous Moose Tracks fudge

Moo SLide(GF;CN)-

Fudge ripples in rich,velvety coffee licquer ice cream with melty, dark chocolate morsels

Muddy Boots (G, N)-

Vanilla ice cream laced with rich caramel ripple and yummy brownie bits.

Peanut Butter Pie (G,N) - 

A graham cracker ribbon ties up rich peanut butter ice cream surrounding chunks of chopped peanut butter cups.

Pistachio Nut (N) - 

Get your pistachio fix without pesky shells! Tasty, real pistachios in every scoop

Pink Peppermint Stick - 

Red and green peppermint crunch add zip to cool pink peppermint ice cream

Power Play Fudge (CN)-

A crushed chocolate cookie advantage in a shift of golden vanillaice creamfull of fudge filled chocolate pucks and crossed with a milk fudge ribbon.

Rocky Road (N) - 

Marshmallow twists through award-winning chocolate ice cream rocked with almonds and chocolate marshmallow melts

Sea Salt Caramel Malt (CN)-

Chocolat covered Malt Balls mixed in a velvety malt ice cream with a sweet and salty caramel whirl.

Smurf (Cotton Candy) - 

Pretty pink and Smurf blue ice cream that tastes just like the cotton candy you loved at the circus

Strawberry - 

Real Northwest strawberries pack this sweet, creamy treat with the flavor of summer

Strawberry Cheese Cake (G) -

 Luscious cheesecake ice cream with Northwest strawberries and a graham cracker ripple

Superhero (GF)-

A powerful trio of red, blue and yellow fights back against plain vanilla

Toasted Coconut (N) - 

Subtly sweet coconut ice cream is loaded with chocolate-dusted coconut shreds, transporting your taste buds to their own private island

 Old Fashioned Vanilla - 

Smooth, creamy, simply delicious and always made with pure vanilla VOTED WORLD'S BEST VANILLA

Maine WIld Blueberry -

Maine wild blueberry ice cream with its sweet blueberry swirl is like a Maine summer day every time you open the carton.
Low Fat Frozen Yogurts
Coffee Heath Yogurt (N) - 

Sweet and mellow low-fat coffee yogurt with crunchy chocolate-coated toffee pieces

Black Raspberry Chocolate Chip (N)- 

Smooth, black raspberry low-fat yogurt and rich chocolate chips. Summertime in a (low-fat!) scoop.
Sherbet
Orange Sherbet - 

A 99% Fat-free goody made with orange puree VOTED WORLD'S BEST ORANGE SHERBET

Rainbow Sherbet - 

Raspberry, orange, and lemon purees lend a rainbow of flavor to this festive, 99% fat-free confection
Sorbet
Raspberry - 

With a burst of natural raspberries in every bite, we're pretty sure you'll love this refreshing, dairy-free twist on a Maine favorite
All Products are manufactured in a facility that processes peanuts, tree nuts, milk, wheat, egg, & soy.
G= contains gluten
N= contains nuts