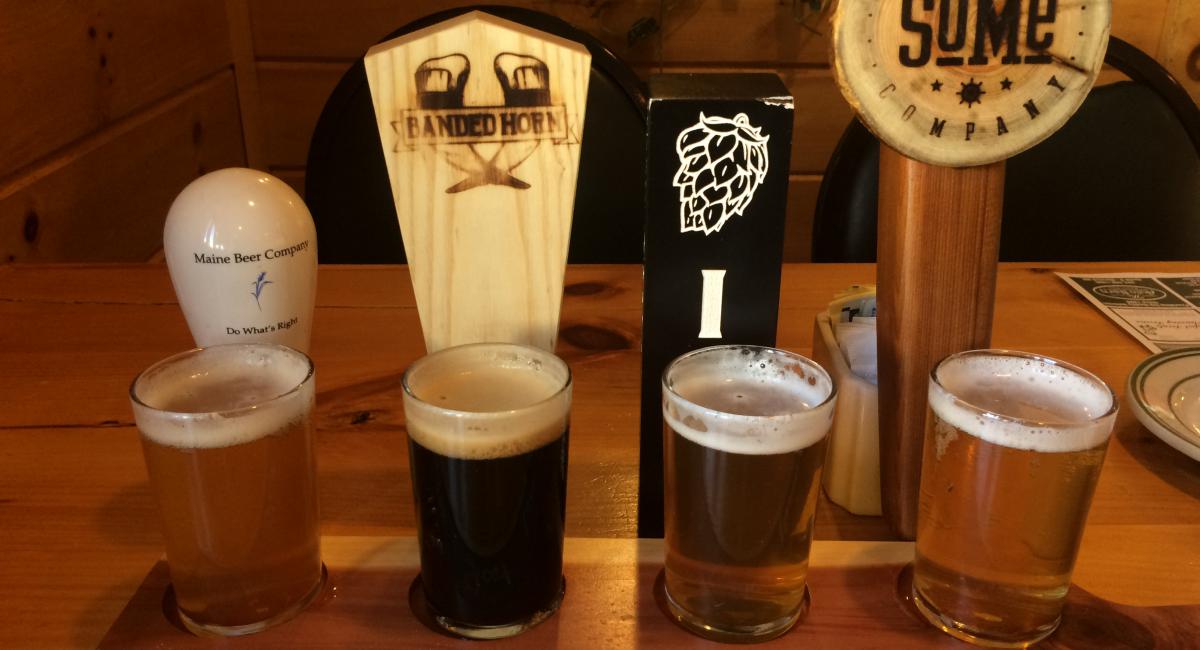 Draft Beers
Tributary Brewing's  Pale Ale ABV.. 5.2 
-An American Pale Ale. A light, refreshing, and crisp ale. Brewed with Nugget, Warrior, & Centennial hops. Dry-hopped with Citra, Warrior, & CTZ hops.
Stoneface IPA  ABV..7.2
-Big, juicy, well-balanced IPA dry hopped with an absurd amount of Citra and Amarillo.
Tributary Milk Stout  ABV...5.4
-A sweet, rich, black and roasty milk stout made with some lactose sugar to soften the roasted malt.
SoMe Brewing Company's Agamenticus Amber ABV..5.5
-A sweet caramel aroma. The taste has nice malt to hop, sweet to bitter balance.
Maine Beer Company's Lunch ABV..7.0
-Intense hop flavors and tropical, citrus fruit and pine aromas dominate the flavor profile, balanced by subtle malt sweetness.
Allagash White. ABV..5.1
-A traditional Belgian wheat beer. Brewed with a generous portion of wheat and spiced with coriander and Curaçao orange peel, this beer is fruity, refreshing and slightly cloudy in appearance.
Woodland Farms Pilsner ABV..4.9
-A Czech style Pilsner
Woodland Farms Wet Hopped Pale Ale ABV..5.9
-A Wet Hop Pale Ale is a slightly hop forward pale ale with earthy derived from fresh hops grown in Kittery Point in the brewer's family garden.
Bottled Beers
Budwieser
Bud Light
Blue Moon           
Angry Orchard    
O'douls
Sam Adams Seasonal
Coors Light
Michelob Ultra
Corona
Sam Adams Boston Lager
Heineken
Wine List
Red Wines
The Pinot Project Pinot Noir
Happy Camper Merlot
The Show Malbec
Happy Camper Cabernet Sauvignon
Steak House Cabernet Sauvignon
Sutter Home House Merlot
White Wines
Fish House Sauvignon Blanc
The Pinot Project Pinot Grigio              
Happy Camper Chardonnay
House Chardonnay
KungFu Girl Riesling
House White Zinfandel 
Liquor
Nice compliment of mixed drinks and liqours available as well!!