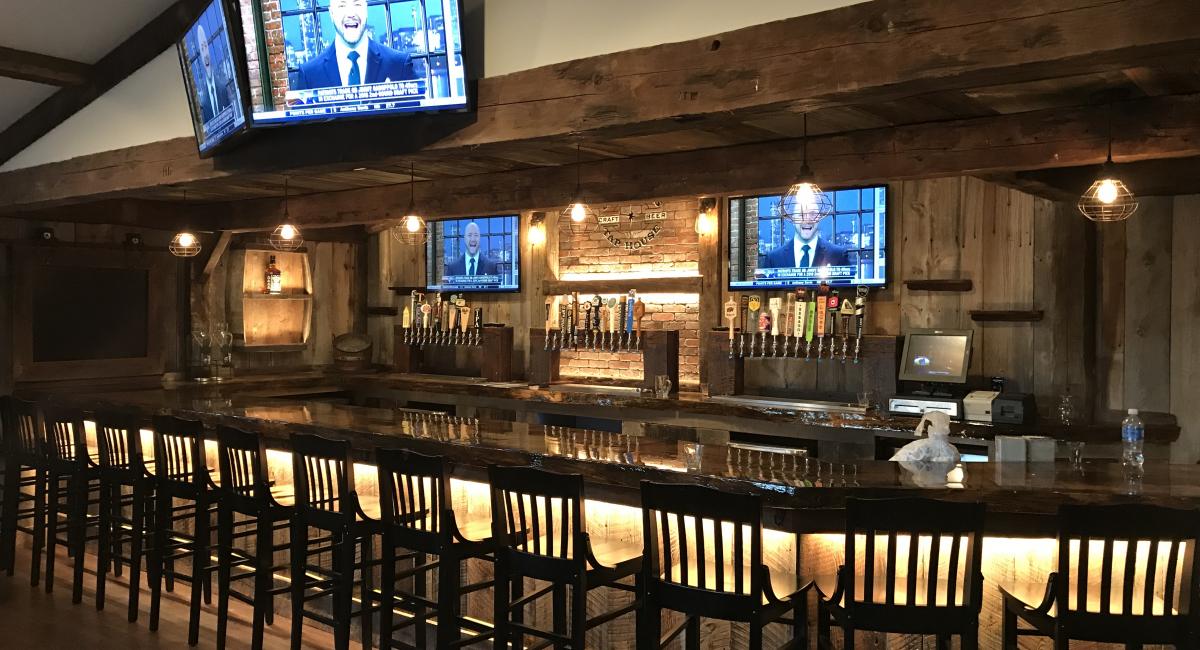 Draft Beer by the Pint
Hobbs Tavern & Back Road Brown Ale
West Ossipee, NH • Brown Ale - American • 5.1% ABV • 32 IBU
16oz Draft $8.00

Redhook ESB
Seattle, WA • Extra Special • 5.8% ABV • 28 IBU • 174 CAL
Redhook's flagship beer got its start as a winter seasonal recipe in the mid
80's. In the early years, Extra Special Bitter earned a reputation as 'banana
beer' and has been brewed continuously since 1987. ESB's caramel malt
sweetness and subtle spice and fruit hop flavors, quickly defined the style,
becoming Seattle's definitive craft beer and inspiring a new wave of craft
beers across the country.

Bayerische Staatsbrauerei Weihenstephan
Weihenstephaner Hefeweissbier
85354 Freising, BY • Hefeweizen • 5.4% ABV • 14 IBU • 162 CAL
Our golden-yellow wheat beer, with its fine-pored white foam, smells of
cloves and impresses consumers with its refreshing banana flavour. It is full
bodied and with a smooth yeast taste. To be enjoyed at any time (always a
pleasure / enjoyment), goes excellently with fish and seafood, with spicy
cheese and especially with the traditional Bavarian veal sausage. Brewed
according to our centuries-old brewing tradition on the Weihenstephan hill.

Henniker Miles & Miles
Henniker, NH • Pale Ale - American • 5.5% ABV • 45 IBU
• 165 CAL
Named in honor of Derry, New Hampshire's own Captain Alan Shepard,
Miles & Miles is a dry-hopped Pale Ale, lighter bodied, with bready malt
notes and a juicy, tropical hop aroma. We dry-hopped Miles & Miles with a
pound of hops per barrel using a blend of Citra and Amarillo, two of
America's most sought after hops. This beer pairs well with grilled meats,
sharp cheeses, and koozies.

Jack's Abby Hoponius Union
Framingham, MA • Lager - IPL (India Pale Lager) • 6.5% ABV
• 65 IBU • 195 CAL
This lager harmoniously combines lager yeast fermentation and west coast
IPA hops. Our India style Pale Lager is like a traditional IPA but with a twist
- it's fermented cold and aged for extended periods. A blend of classic
American hops creates a huge tropical fruit and citrusy hop aroma. A dry
finish accentuates the pleasant bitterness and hop profile.

Lord Hobo Boomsauce
Woburn, MA • IPA - Imperial • 7.8% ABV • 78 IBU • 234 CAL
A New England style IPA using 6 hop varietals lending to a citrus and
tropical fruit finish.

Spencer Spencer Trappist Ale
Spencer, MA • Patersbier • 6.5% ABV • 23 IBU • 195 CAL
America's First Trappist Beer. Our recipe was inspired by the traditional
refectory ales known as patersbier ("fathers' beerbeer" in Flemish) in Belgium.
These sessionable beers are brewed by the monks for their dinner table and
are typically only available at the monastery. Spencer is a full-bodied,
golden-hued ale with fruity accents, a dry finish and light hop bitterness.
The beer is unfiltered and unpasteurized, preserving live yeast that naturally
carbonates the beer in the bottle and keg and contributes to the beer flavor
and aroma.

Founders Nitro Rübæus
Grand Rapids, MI • Fruit Beer • 5.7% ABV • 15 IBU • 171 CAL
Rubaeus is infused with nitrogen resulting in a creamy mouth feel that
brings out the complex richness of the raspberries.

Founders All Day IPA
Grand Rapids, MI • IPA - Session • 4.7% ABV • 42 IBU • 141 CAL
Satisfies your tastes while keeping your senses sharp. Brewed with a
complex array of ingredients. Balanced for optimal aromatics and a clean
finish.
 
Smuttynose Rhye IPA
Hampton, NH • Rye IPA • 7% ABV • 84 IBU • 210 CAL

New Holland Hoptronix
Holland, MI • IPA - Imperial • 9% ABV • 70 IBU • 270 CAL
Mosaic hops

Great Rhythm Resonation Pale Ale
Portsmouth, NH • Pale Ale - American • 5.2% ABV • 30 IBU
• 156 CAL
A crisp Pale Ale with a dose of resinous hops

Boston Beer Samuel Adams Winter Lager
Boston, MA • Lager - Winter • 5.6% ABV • 22 IBU • 168 CAL
Bold and rich, with a touch of holiday spice The first thing one notices in a
Samuel Adams® Winter Lager is its color: the deep brown of winter. Then
comes the magical aroma which promises something special on the tongue.
The warm aroma of cinnamon and ginger which blends with the toasty
sweetness of the malted barley and hint of citrus.
Boston Beer Samuel Adams Boston Lager
Boston, MA • Lager - Vienna • 5% ABV • 30 IBU • 150 CAL
Samuel Adams Boston Lager® is the best example of the fundamental
characteristics of a great beer, offering a full, rich flavor that is both
balanced and complex. It is brewed using a decoration mash, a time
consuming, traditional four vessel brewing process discarded by many
contemporary brewers. This process brings forth a rich sweetness from the
malt that makes it well worth the effort. Samuel Adams Boston Lager® also
uses only the finest of ingredients including two row barley, as well as
German Noble aroma hops. The exclusive use of two row barley not only
imparts a full, smooth body but also gives the beer a wide spectrum of malt
flavor ranging from slightly sweet to caramel to slightly roasted. The Noble
hops varieties, Hallertau Mittelfruh and Tettnang Tettnanger, add a wide
range of floral, piney and citrus notes, which are present from the aroma,
through the flavor, to the lingering smooth finish. We take great pride in the
Noble hops used in our beers. They are hand selected by Jim Koch and our
other brewers from the world's oldest hops growing area. Among the
world's most expensive, they cost twenty times as much as other hops.

Sebago Bonfire
Gorham, ME • Rye Beer • 5.7% ABV • 53 IBU • 171 CAL
Bonfire is a unique seasonal offering that transcends any traditional beer
style. The combination of malts complement the generous amount of lateaddition
American hops, creating a perfect balance of earthiness and
resinous hoppy aroma. Bonfire was designed to be enjoyed on a hot
summer day or cool autumn night.

Dogfish Head Namaste (2017)
Milton, DE • Witbier • 4.8% ABV • 20 IBU • 144 CAL

Great North Aleworks Tie Dyed
Manchester, NH • Pale Ale - American • 5.4% ABV • 162 CAL
Tie Dyed is a sessionable pale ale that's aromatic and refreshing. Brewed
with Citra, Amarillo, and Cascade hops, this lively beer is light, crisp, and
packed with flavor. Tie Dyed started as our summer seasonal. We wanted a
beer that had great hop aroma and flavor, but was smoother and easier
drinking. Perfect for a hot summers day. It was an instant hit, so we decided
to promoted it to year-round!

SoMe Apostrophe IPA
York, ME • IPA - American • 6% ABV • 79 IBU
All Mosaic IPA
16oz Draft $8.00

Allagash Curieux
Portland, ME • Belgian Tripel • 11% ABV • 27 IBU • 330 CAL
First brewed back in 2004, Curieux was our initial foray into barrel aging. To
make Curieux, we take our Tripel and let it age in bourbon barrels for sixto-
eight weeks. Once that time is up, we take the beer out of our cold
cellars and blend it back with a portion of fresh Tripel. The resulting rich,
golden ale features smooth notes of coconut, vanilla, and a hint of bourbon.

Allagash White
Portland, ME • Witbier • 5.1% ABV • 13 IBU • 153 CAL
Allagash White features a refreshing balance of citrus and spice. Wheat,
coriander, and Curaçao orange peel round out the flavor of this pale strawcolored,
hazy beer.
 
Switchback Switchback Ale
Burlington, VT • Red Ale - American Amber • 5% ABV • 28 IBU
• 150 CAL
Using only traditional ingredients, Switchback Ale is a reddish-amber ale
which is particularly well-balanced, allowing for complexity of flavor
coupled with an unusually smooth and refreshing character. Five different
malts, select hop varieties, and our own specially cultivated yeast create an
ale which leads with hop flavors and a subtle impression of fruit (our
yeast's contribution), followed by a palate pleasing malty finish. Our own
special process uses the yeast to naturally carbonate the beer, and we leave
it unfiltered. The result is a satisfying brew full of flavor with a remarkably
clean and smooth finish.

Banded Horn Veridian IPA
Biddeford, ME • IPA - American • 6% ABV • 69 IBU • 180 CAL
Veridian, the name, is a combination of VERDANT (lush growth), VIRIDIA
(green) and VERITAS (truth). Veridian, the beer, is a celebration of hops
balanced by barley. These core ingredients are as inseparable as humans are
from IPAs - and that's the truth.

Stone Vengeful Spirit IPA
Escondido, CA • IPA - American • 7.3% ABV • 57 IBU • 219 CAL
We've often been inspired to brew beers on a theme. In 2007 it was black
IPAs. 2008 saw Belgian-influenced IPAs, and more than once it's been
Triple IPAs. It's been fun to dive deep, and you've ridden those waves right
along with us. But like you, we also crave new breaks to surf. Right now, it's
tropically-inspired IPAs as represented both by this flavored ale, Stone
Tangerine Express IPA and others we've got waiting in the wings....With
Stone Vengeful Spirit IPA we employ a bit of tropical mythology to pay
homage to our ever present gargoyle. Since 1996 he's had our backs, and
yours, by representing an aggressive intolerance for commoditized beer. He
constantly inspires us to forge ahead with resolve–even with the
omnipresent forces of forceful evil. Vengeful spirits can be awesome when
they're on your side.

Stone Stone IPA
Escondido, CA • IPA - American • 6.9% ABV • 71 IBU • 207 CAL
By definition, an India Pale Ale is hoppier and higher in alcohol than its little
brother, pale ale — and we deliver in spades. Now one of the most well
respected and best-selling IPAs in the country, this golden beauty explodes
with citrusy flavor and hop aromas, all perfectly balanced by a subtle malt
character. This crisp, extra hoppy brew is hugely refreshing on a hot day, but
will always deliver no matter when you choose to drink it. Hops: Magnum,
Chinook & Centennial

Oskar Blues Dale's Pale Ale
Longmont, CO • Pale Ale - American • 6.5% ABV • 65 IBU
• 195 CAL
This voluminously hopped mutha delivers a hoppy nose and assertive-butbalanced
flavors of pale malts and citrusy floral hops from start to finish.
Oskar Blues launched its canning ops in 2002, brewing and hand-canning
Dale's Pale Ale in the Lyons, Colorado, brewpub. America's first-craftcanned
mountain pale is a hearty, critically acclaimed trailblazer that
changed the way craft beer fiends perceive portable beer

Left Hand Milk Stout Nitro
Longmont, CO • Stout - Milk • 6% ABV • 25 IBU • 180 CAL
POUR HARD! Dark & delicious, America's milk stout will change your
perception about what a stout can be. Pouring hard out of the bottle, Milk
Stout Nitro cascades beautifully, building a tight, thick head like hard
whipped cream. The aroma is of brown sugar and vanilla cream, with hints
of roasted coffee. The pillowy head coats your upper lip and its creaminess
entices your palate. Initial roasty, mocha flavors rise up, with slight hop &
roast bitterness in the finish. The rest is pure bless of milk chocolate
fullness. Famous for their Nitro series, Left Hand Brewing was the first craft brewery to release a bottled nitrogenated beer. For the best experience, pour
hard at 180 degrees into a 16oz glass. Different gas, different pour. Cheers!
#PourHard

Lagunitas A Little Sumpin' Sumpin' Ale
Petaluma, CA • Pale Wheat Ale - American • 7.5% ABV • 65 IBU
• 225 CAL
A truly unique style featuring a strong hop finish on a silky body. A filtered
pale wheat ale that is great for both IPA and wheat beer fans.

Two Roads Miles 2 Go Unfiltered Pale Lager
Stratford, CT • Kellerbier • 6.2% ABV
16oz Draft $6.00
Firestone Walker Easy Jack
Paso Robles, CA • IPA - Session • 4.5% ABV • 47 IBU • 135 CAL
Brewmaster Matt Brynildson went to the mountain and returned with a
vision for a different kind of Session IPA, one that would be brewed and dry
hopped with a globetrotting selection of new hop varieties from Europe,
New Zealand and North America. He foresaw a beer that would deliver
massive hop aromas, a signature malt balance and an empty glass before
you knew what hit you. And so the newest member of our Jack IPA family
was born.

Downeast Cider House Original Blend
Boston, MA • Cider • 5.1% ABV • 153 CAL
Original Blend is the Auerbach to our Celtics, the Satisfaction to our Stones,
the Agent K to our Men In Black, our foundation. From its humble
beginnings in the basement of a Bates College dormitory, Original Blend is
the result of hundreds of test batches aimed at crafting the best damn hard
cider you've ever tasted. Original Blend is made from freshly pressed local
apples because we not only believe in high quality cider, we believe in
America. We use a secret blend of Red Delicious, McIntosh, Cortland, and
Gala apples, and NEVER add concentrate, artificial flavors or sweeteners.
Original Blend is the way cider should be. Our Original Blend Cider is 5.1%
ABV. As always, our cider is GLUTEN FREE!!

Maine Beer Another One
Freeport, ME • IPA - American • 7% ABV
Intensely hoppy American IPA, brewed as the light-colored counterpart to
Weez (both beers incorporate the exact same kettle and dry hopping
schedule). Another One has a very clean malt palate, leaving little but hoppy
resins on the tongue, and finishes dry and crisp.
16oz Draft $8.00
Neighborhood Beer Boss Flamingo Bronze Ale
Exeter, NH • Dampfbier • 7.2% ABV
Boss Flamingo Bronze Ale is one of the rarest beers in the world. Its
harmonic blend of hops, malt, and spicy yeast flavors create a surprisingly
unique blend of fruity aromas and hop-bitterness. It's an Americanized,
"imperialized" interpretation of the Bavarian Forest Dampfbier. It has never
been made before.
16oz Draft $8.00

Smuttynose Old Brown Dog Ale
Hampton, NH • Brown Ale - American • 6.5% ABV • 30 IBU
• 195 CAL
Old Brown Dog has been cited as a classic example of the American Brown
Ale style of beer. Compared to a typical English Brown Ale, Old Brown Dog is
fuller-bodied and more strongly hopped. Old Brown Dog has been around
for many years. It was first brewed in 1988 at the Northampton Brewery. In
1989 it won a silver medal in its category (American Brown Ale) at the Great
American Beer Festival in Denver.

Hobbs Tavern & Swift River IPA
West Ossipee, NH • IPA - American • 6.5% ABV • 195 CAL

Tuckerman Pale Ale
Conway, NH • Pale Ale - American • 5.3% ABV • 37 IBU • 159 CAL
Our flagship Pale Ale, released in 1998, is brewed with specialty malts,
some grown in Maine, and four types of hops. After fermentation, it is cold
conditioned and dry-hopped in lagering tanks for maximum taste and
quality. It is naturally carbonated in the bottle or keg using a German
process called krausening, where a small amount of fresh fermenting wort is
added. This produces a delicate carbonation and superior flavor. From the
Mash Tun to store shelves is a 30 day process.

Stoneface IPA
Newington, NH • IPA - American • 7.2% ABV • 50 IBU • 216 CAL
Big, juicy, well-balanced IPA dry hopped with an absurd amount of Citra
and Amarillo.
Bottles and Cans
Switchback Ale
Budweiser
O'Doul's
Alligash White
Allagash Black
Dogfish Head 60 Minute IPA
Heineken
Michelob Ultra
Sam Adams Boston Lager
Sam Adams Seasonal
Woodstock Lemon Blueberry Pale Ale
Laganitas IPA
Corona Extra
Coors light
Blue Moon
Stump City Cider
Downeast Unfiltered Hard Cider
New Belgium Fat Tire
Stella Artois
Jacks Abby House Lager
Wine's by the Bottle or Glass
Canyon Oaks Chardonnay
Canyon Oaks White Zin
Canyon Oaks Merlot
Pinot Project Pinot Noir
Pinot Project Pinot Grigio
Fish House Suavignon Blanc
Happy Camper Chardonnay
Happy Camper Merlot
Kung Fu Riesling
The Show Malbec
Steak House Cabernet Sauvignon
Liquor
Nice compliment of mixed drinks and liqours available as well!!