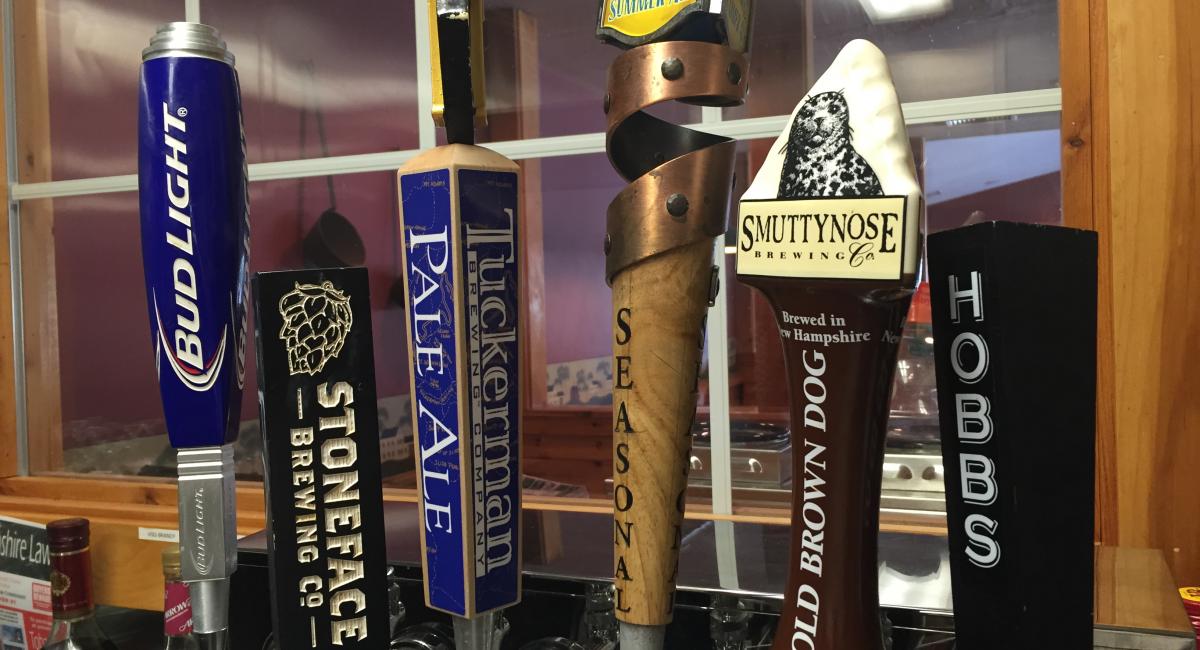 Draft Beer by the Pint
Hobbs Brewing "Swift River IPA" Ossipee, NH  ABV: 6%
This is a west coast style IPA. Big on hop flavor with a crisp hop bite typical of the style. Very pale and hazy in color it is a very refreshing brew! Lots of fruit/flowers in the aroma and a piney bite to balance to malts.
OR
Hobbs Brewing "Swift River IPA" Ossipee, NH  ABV: 7.8%
A Big, juicy Double India Red Ale
Stoneface "IPA"    Newington, NH ABV 7.2%      
A great balanced IPA, big citrus and spice notes, velvety mouth feel, and great dry finish.   
Smuttynose "Rhye IPA " Hampton, NH ABV 7%
rye spiciness and big hop character. This beer will really get under your armor….
Tuckerman's "American Style Pale Ale" Conway, NH   ABV 5.3%
Tuckerman's flagship Pale Ale, released in 1998, is brewed with specialty malts, some grown in Maine, and four types of hops. After fermentation, it is cold conditioned and dry-hopped in lagering tanks for maximum taste and quality. It is naturally carbonated in the bottle or keg using a German process called "krausening", where a small amount of fresh fermenting wort is added. This produces a delicate carbonation and superior flavor.
Smuttynose "Old Brown Dog  American Brown Ale"  Hampton, NH ABV 6.7%
Old Brown Dog has been cited as a classic example of the "American Brown Ale" style of beer. Compared to a typical English Brown Ale, Old Brown Dog is fuller-bodied and more strongly hopped.Old Brown Dog has been around for many years. It was first brewed in 1988 at the Northampton Brewery. In 1989 it won a silver medal in its category (American Brown Ale) at the Great American Beer Festival in Denver. It has since been retired from competition but enjoys love and respect from people all over the world.
Bud Light Draft
Bottles and Cans
Switchback Ale
Budweiser
O'Doul's
Alligash White
Allagash Black
Dogfish Head 60 Minute IPA
Heineken
Michelob Ultra
Sam Adams Boston Lager
Sam Adams Seasonal
Woodstock Lemon Blueberry Pale Ale
Laganitas IPA
Corona Extra
Coors light
Blue Moon
Stump City Cider
Downeast Unfiltered Hard Cider
New Belgium Fat Tire
Stella Artois
Jacks Abby House Lager
Wine's by the Bottle or Glass
Canyon Oaks Chardonnay
Canyon Oaks White Zin
Canyon Oaks Merlot
Pinot Project Pinot Noir
Pinot Project Pinot Grigio
Fish House Suavignon Blanc
Happy Camper Chardonnay
Happy Camper Merlot
Kung Fu Riesling
The Show Malbec
Steak House Cabernet Sauvignon
Liquor
Nice compliment of mixed drinks and liqours available as well!!